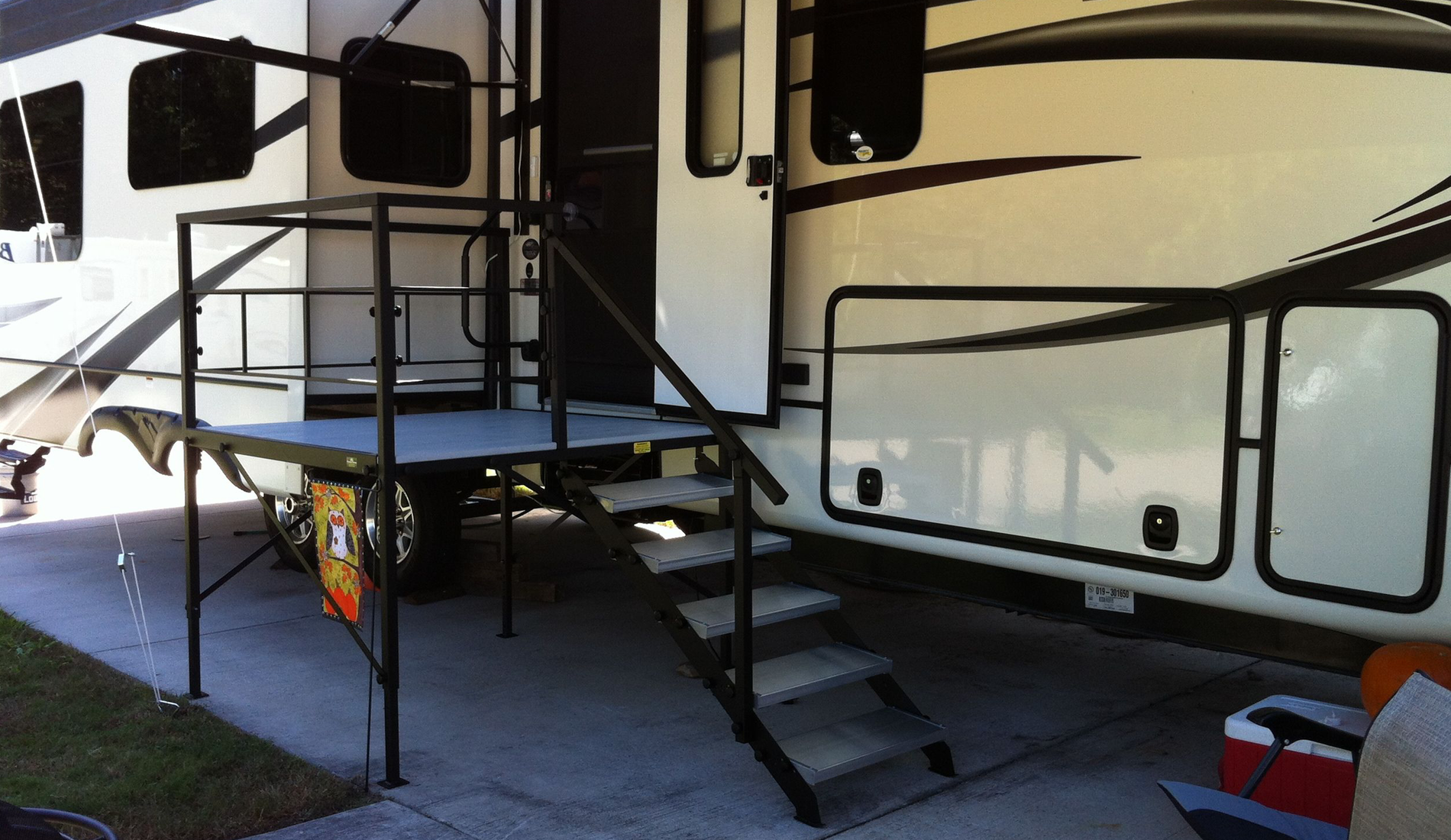 Quality Portable Decks For RV's
 The #1 Portable RV Deck with Easy Steps
Our portable decks, steps, and porches are custom-built for RV's.  They are built to last and set up easily.  We offer a variety of styles to fit any 5th wheel, Camper, or Motorhome. CAUTION: Our Leadtime is currently 16 weeks due to high demand.  Please consider this before ordering online.  You can call 972-722-2098 to place an order by phone with a 50% deposit rather than ordering online. Thanks.

The Sunrise Deck Difference
Find out what separates Sunrise from everyone else and why you deserve the BEST portable RV Deck made in the USA.
Experience and Reputation
Sunrise RV Products Inc. has been making the Sunrise Deck product line since 2008. Over the years, we have shipped to nearly every state in the USA and Canada.
Excellent Customer Service
We like to speak with every customer prior to ordering to make sure that the deck will be the right fit for the RV.  And we are always glad to hear feedback so that we can continue to improve our products as the years go on.  If a mistake does occur, we are quick to admit it and provide exchanges to make sure our customers are 100% satisfied with our product.
A Sturdy and Stable Patented Design
The Sunrise Deck is manufactured with the durability to last a lifetime and yet is light enough for anyone to handle. This deck offers peace of mind and ensures that every entrance and exit to your RV will be a safe one. The patented design ensures very little movement once the deck is fully assembled making for a solid feel underfoot. A single size deck will hold up to 600 pounds.
Craftsmanship and Attention to Details
We handcraft our Sunrise Decks to order, right here in the USA.  Every Sunrise Deck is test assembled prior to shipment to make sure that all the parts will fit together well upon arrival.
Continuing Relationship
If a customer ever needs to change their deck, perhaps due to changing their RV or a desire for a different configuration, we are glad to make parts that will accommodate the change so that you don't have to purchase an entire new deck.
Pet-Friendly
Our Sunrise Portable RV Decks are made with our little friends in mind. Our decking and aluminum steps allow most animals to be able to go up and down without having to be carried. The steps are solid so that little paws don't get caught or pinched.
Why Add A Deck To My RV?
A Sunrise Deck enhances any travel, no matter where your road leads.  It's a must-have product for all RV'ers. Upgrade your RV lifestyle with a stylish portable porch, deck, and step system from Sunrise Products Inc. Our custom made porches and steps take the hassle out of getting in and out of your 5th wheel, motorhome, or camper. Give us a call today and let's start designing the perfect deck for your RV life!
Patented Design-Made In The USA
Sunrise RV decks incorporate a number of patented innovative design features that offer varying height adjustment and selectable stair locations to match almost all 5th wheels, motorhomes, campers, and coaches. The telescoping legs and adjustable steps allow you to level the steps for each adjustment height. The legs adjust independently and are excellent for uneven ground. The measurements are calculated to accommodate the height of travel trailers, 5th wheels, motor homes, and coaches.  Follow RV Decks for more photos of our product.
Custom Made Portable RV Porch
Sunrise portable deck for RV, porches, and steps come in a variety of sizes and configurations. The standard deck platform starts at 45″ x 45″ and the decks can be expanded to double triple or more. You can select the steps to be oriented to the left, far left, right, far-right or center of the deck. A Sunrise Deck is ideal for people with leg, hip, or joint problems; or those RVer's who just need a better way to bring grocery bags, laundry baskets, and suitcases inside.  For animal lovers, Sunrise Decks allow your pets to go in or out of the RV without having to be lifted.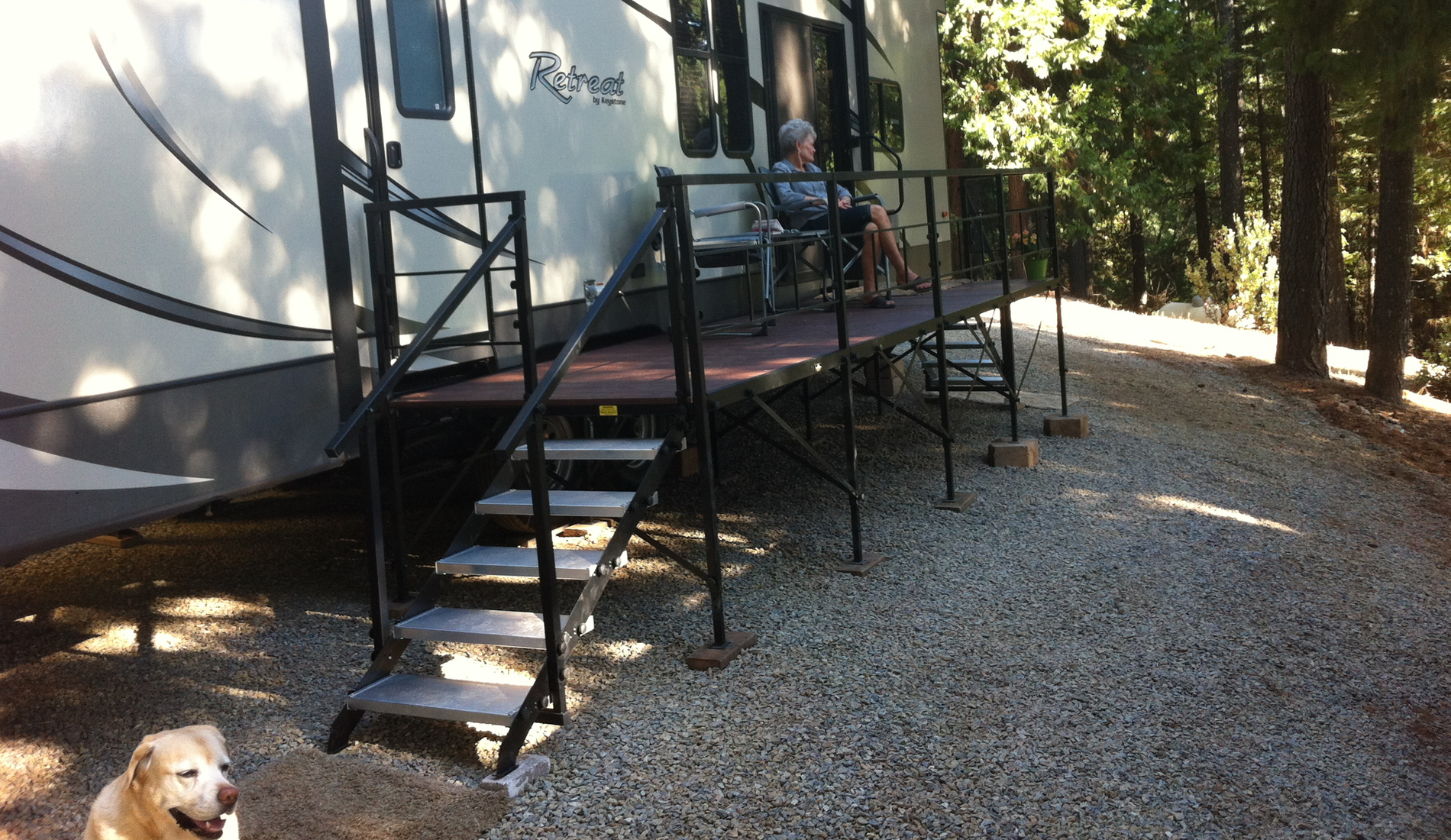 About Sunrise RV Products
Based just east of Dallas, TX, Sunrise Products Inc. has been providing quality portable porches and steps to the RV community since 2008. Our patented and innovative deck designs are recognized as the premier solution for RV owners who want safety and convenience. Our rugged portable porches, landings, and decks are designed specifically for RV owners with steps that are easy to navigate for people and pets.
Portable RV deck
All of our RV decks, porches, and steps are custom manufactured in the USA to each customer's unique requirements and set up with no tools required! Sunrise Products Inc. incorporates strict quality controls in our manufacturing process to assure that each deck is fully functional and defect-free when shipped to our customers. All decks are test assembled prior to shipping to guarantee that each part has been fabricated to our exacting standards. We back up all our products with a 100% satisfaction guarantee and extend a lifetime warranty against any manufacturing defects.  Visit our store and buy your RV Deck today.
Made in usa-RV Portable Decks
With hundreds of satisfied customers across the USA and Canada, we are proud of our reputation and committed to providing excellent products and customer service with an aim toward improving people's quality of life. Sunrise Products Inc. has a continuous improvement mindset and plans to add new products to its portfolio in the years ahead. We encourage you to browse our site and discover why Sunrise decks are the preferred choice for full-timers and weekenders alike. Please don't hesitate to contact us if you have any questions or would like more information.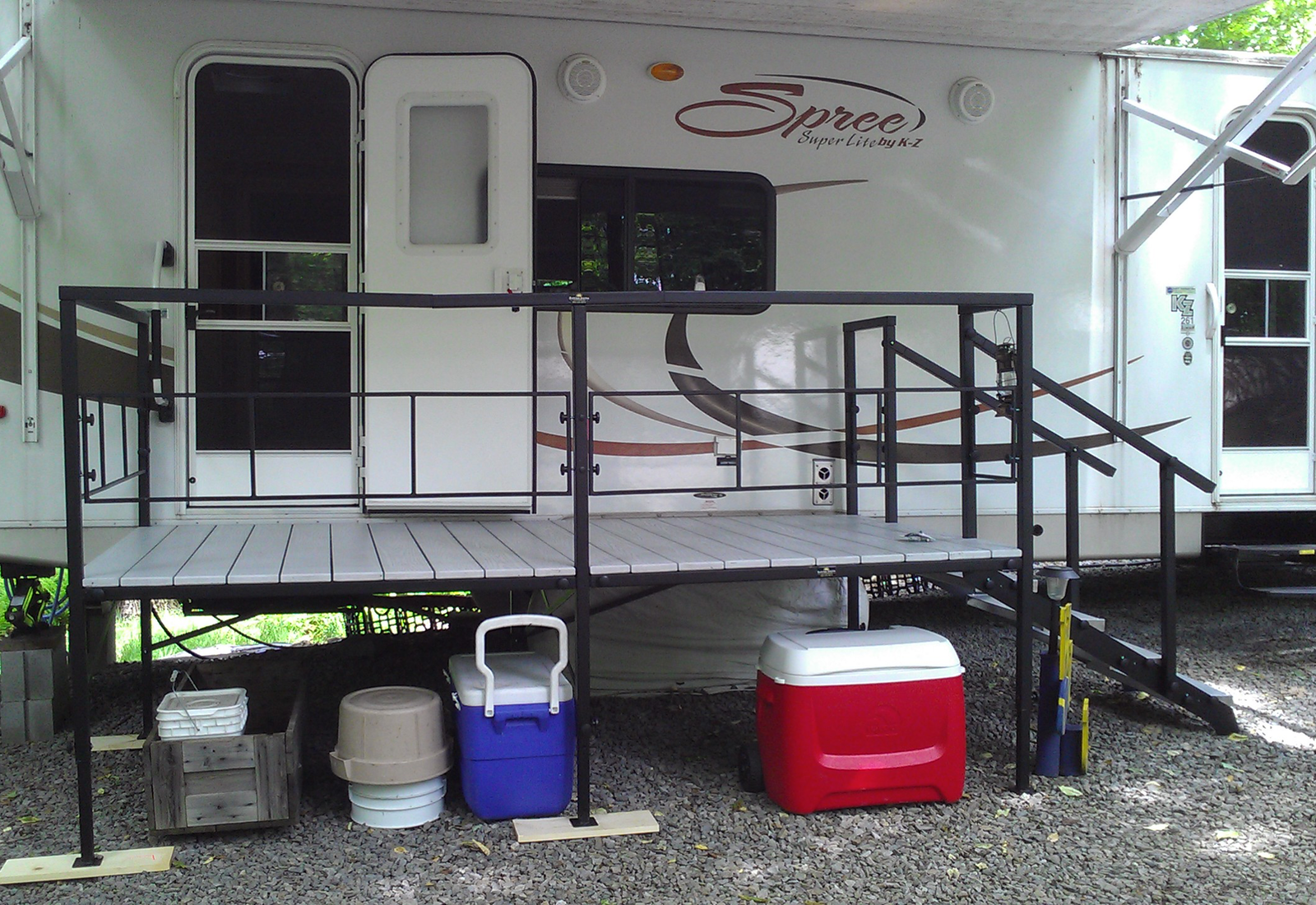 See ALL RV Deck Models
Any Custom Size for your RV
Options: Deck Size, Step Orientation
Made in Texas with Pride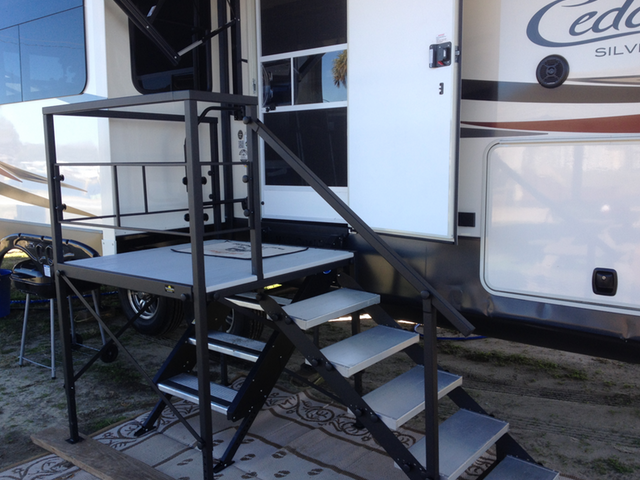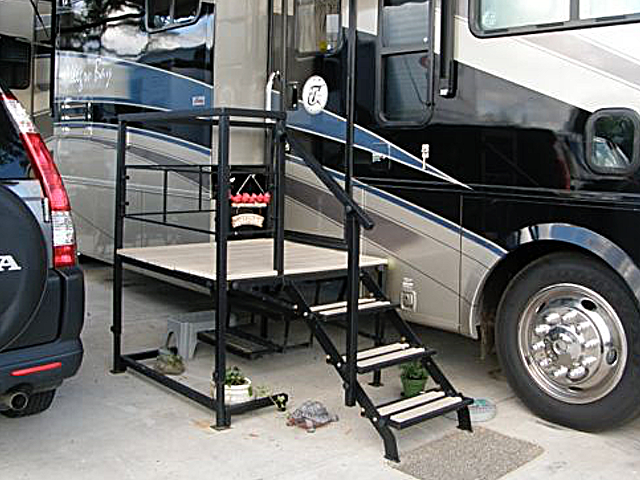 24 Series – 3 Step RV Porch and Deck Systems
 Deck Height: 20 1/4″ to 24″
 Options: Deck Size, Step Orientation
PRICE $1399.00 and up

32 Series – 4 Step RV Porch and Deck Systems
 Deck Height: 28-1/4″ to 32″
 Options: Deck Size, Step Orientation
PRICE $ 1499.00 and up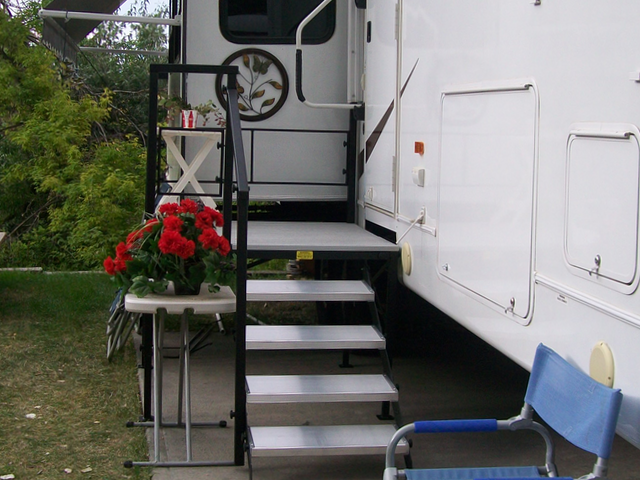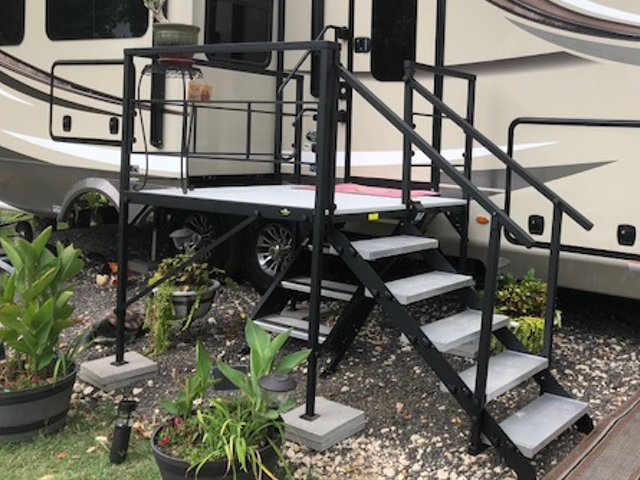 40 Series – 5 Step RV Porch and Deck Systems

Deck Height: 32-1/2″ to 40″
Options: Deck Size, Step Orientation
PRICE $ 1599.00 and up

Patented Design Features-Portable RV Deck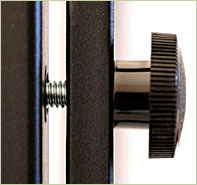 Self Clamping Bolts
Sunrise Decks utilize Clamping Bolts so no tools are needed for assembly. Beginning in September of 2019 they are Stainless Steel and allow for easy setup and takedown.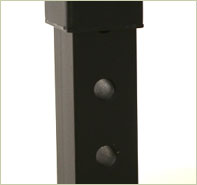 Barreled Adjustment Holes
Each adjustable foot has several holes in order to adjust the height.  The aluminum barrels keep the rain out and provide a smooth surface for the bolts to rest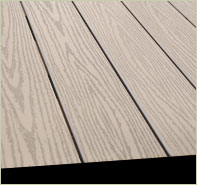 PVC Decking
The decking we use is an extruded PVC material that lasts a lifetime and is made in the USA.  It requires no maintenance and can be cleaned with simple soap and water.  We carry ashwood grey as our standard color for all Sunrise Decks.  Other colors may be special ordered.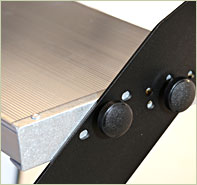 Adjustable Aluminum Steps
 Our extruded aluminum steps are lightweight while being sturdy.  The surface offers slip-resistant grooves, which are great for people and pets.  The typical step is 24 inches wide and 9.5 inches deep.  The stringers are designed so that the steps can adjust to match with the deck height settings so that you will always have a level foothold.  The maximum rise for any model will be between 5.5 inches and 6.74 inches.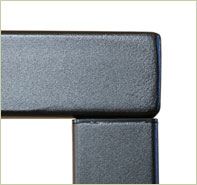 Interlocking Joints
The Sunrise Deck design and manufacturing process allows for tight interlocking joints.  We use a TIG Welding process to ensure strength while allowing for a nice clean appearance.  Our special plastic bushings provide a smooth but tight fit.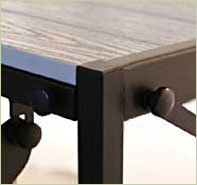 Stability
Sunrise Decks are designed to be portable yet extremely sturdy.  The patented design ensures very little movement once the deck is fully assembled making for a solid feel underfoot.  A single size deck will hold up to 600 pounds.
How do I order a Sunrise Portable RV Deck?
You can order one of our stock Portable RV Decks safe and secure with PayPal from our website store.  For other models,  we want to be sure that the deck will fit your needs so we like to have a conversation with you to check the measurements and configurations.  We then will take a credit card to place the order.  We ask for a 50% deposit and then  charge the balance when the deck is ready to ship.

How long does it take to set up a Sunrise Deck?
Most folks can set up or take down a standard size Sunrise Deck in less than 15 minutes once they've done it a couple of times. The first time you set the deck up, you will need to unwrap all the parts, which have been packaged for extra protection during shipment. Also, the steps initially come unassembled. Once they have been assembled the first time, most people will leave the stair-case in one piece which saves time later. It may take 45 minutes to an hour the first time you set one up.
Is the Sunrise Deck easy to store?
Once disassembled, the Sunrise Deck parts can be stored away in a storage compartment below the RV or in the back of a trunk or pickup. The dimensions of a deck broken down depend a bit on exactly which one you have but for example, the Kingston-32 Series decks will break down into 3 basic items: The staircase left assembled will be 50" x 26" x 6", The decking is in 3 pieces and will stack to a size of 17"x 46" x 5", the rest of the frame parts will fit into a space that is 52" x 18" x 8".
How much does a Sunrise Deck weigh?
The great thing about the Sunrise deck is that it was designed to be very sturdy when assembled but light enough for just about anyone to handle when taken apart for storage. The decks vary in weight depending on exactly which one you order but for example the Kingston-32 Left will end up at about 175 pounds all put together. Most people leave the staircase in one piece when they disassemble the deck. The 4-step staircase weighs about 30 pounds. The heaviest single part of the deck is one piece of the decking which weighs about 15 pounds. The heaviest piece of the steel frame weighs a little less than 9 pounds.
How much does it cost to ship a Sunrise Deck?
We ship by UPS regular ground service.  The shipping cost varies depending on location but we currently charge 10% of the deck price to ship anywhere in the lower 48 US States.  We are located about 30 minutes east of Dallas, Texas and are glad to have customers come pick up their deck.

How long does it take to get my deck once I place an order?
We build our decks to order. Currently we have a high backlog due to demand and the lead time is currently 16 weeks. This will change depending order backlog.

Where can I see a Sunrise Deck in person?
We are a small company and do not have retail locations so the best place to see a Sunrise Deck is in an RV park. We are glad to check our records to see if there is a customer near you who wouldn't mind showing you their deck. We will contact that customer first and ask their permission. Most of our customers are glad to show off their decks!
Do you ship to Canada?
Yes, we can arrange to ship to Canada via FedEx ground service. Shipping time is between 7 and 10 days from the time we ship to receipt. The customer will be billed for any duties or applicable taxes.
Can I return the deck if I don't like it?
Yes, we don't want anyone to be stuck with a deck they don't like. We offer a 30-day money-back guarantee. All we ask is that you ship the deck back to us in the original packaging. You don't have to worry about scratches, we'll have to refresh the powder coating so the deck will be ready for another customer. Thankfully, (knock on wood), we've never had one come back yet!
Will the deck block me from getting into my storage compartment?
That's a good question and depends on which deck you buy and the design of your RV. We will go over dimensions thoroughly with you prior to taking an order to be sure you understand if there might be an issue. The Kingston Series deck size works with nearly all 5th wheel models without blocking the "garage" compartments. The Class A motorhomes are sometimes more challenging and we may have to modify the deck size or step orientation to make sure there's clearance.
Contact Sunrise RV Products